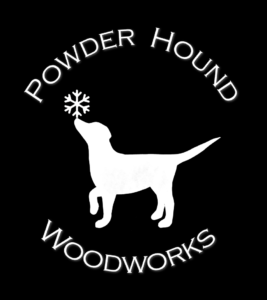 Our Story
Powder Hound Woodworks is the realization of a life-long passion for woodworking, art, and creativity. Growing up in the Northwest, Nate learned from his family logging company and continued to be passionate about exploring woodworking during art school and after. The pandemic accelerated our move to turn his passion into our own business to avoid unemployment and provide quality products to our local community.
Powder Hound Woodworks incorporates art-inspired design, precise work, and lasting quality to products that can be customized to our customer's vision. We experiment with new designs and customization you won't see anywhere else. In all products, no detail is missed, to the point of painstaking perfectionism in the eyes of an artist. Our goal is no matter what the product, something fun or something functional, the quality has no equal.
Working for our local community, we are proud to call Duvall our home. We proudly support other local businesses and enjoy the recreation that the Snoqualmie Valley has to offer. We are avid snowboarders with a profound love of powder and our Pacific Northwest Mountains. Say hello if you see us in the mountains being powder hounds together! The inspiration for our logo came from our dogs, who share our love of snow and our Pacific Northwest home.
Support of our community doesn't stop at the local level. Julie is a science teacher with a passion for the environment, continuously helping our company be mindful of our carbon footprint and sustainability. This is one reason why certain products are only available to local regions in Washington. As the seasons change, so do our products, so check back often to see what new things we have to offer!
Thank you for your business,
~Nate & Julie
Powder Hound Woodworks -Established in 2020-